Total Rewards
The Heartland AEA total rewards framework is designed to support and reinforce our goals, strategies, values, operational and financial needs and the vision and mission of the Agency. It includes all of the tools available to Heartland AEA that may be used to attract, recruit, motivate and retain employees, as well as everything our employees may perceive to be of value resulting from the employment relationship: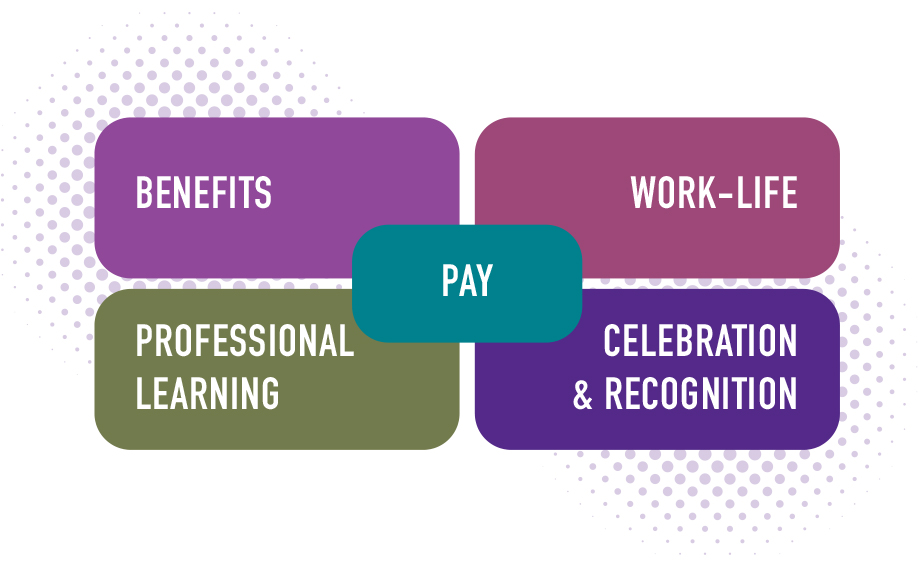 Pay

Pay Provided by an Employer to an Employee

Market-based Pay
Premium Pay
Variable Pay

Supplemental pay
Addendum pay
Benefits

Programs an Employer Offers to Supplement the Cash Compensation that Employees Receive
Health & Welfare

Medical plan
Dental plan
Flexible spending accounts
HRA
Life insurance
AD & D insurance
Long-term disability insurance

Retirement

Defined benefit plan (IPERS)

Leave

Vacation
Holiday
Sick
Bereavement
Personal
Leaves of absence

Voluntary

Tax-sheltered annuity (403(b))
457 plan (deferred compensation)
Spouse/dependent life insurance

 
 
Work-Life

Organizational Practices and Policies that Actively Support Employee Efforts to Achieve Success at Work and Home
Caring for Dependents

Dependent care reimbursement account

Community Involvement
Culture Change Initiatives

Diversity engagement
High-performance organization

Financial Support

Vision discounts
Cell phone discounts
Financial planning education

Flexibility

Flexible work schedule
Flexible workplace
Part-time employment

Health & Wellness

Employee Assistance Program
Wellness Program

Paid & Unpaid Time Off

Maternity/paternity leave
Adoption leave
Professional Learning

Learning Experiences Designed to Enhance Employees' Skills and Competencies in ways that Enrich the Agency and Support Individual Growth
Career Opportunities

Internal job postings
Job advancement
Internships

Coaching/Mentoring

Formal and informal mentoring programs

Learning Opportunities

On-the-job learning
Attendance at conferences
Access to virtual learning
Self-development tools
Leadership development

Supervision

1:1 meetings
Performance planning
Goal setting
Coaching support
Stay interviews
Performance reviews
Celebration & Recognition
Celebrations and Acknowledgment of Employee Contributions
Recognition
Service awards
Retirement awards
"Star Staff" in HeartBeat newsletter and social media
Opening meetings with informal celebrations
---
Featured Total Rewards Programs
Heartland AEA is proud to offer, in addition to compensation and benefits, these "total rewards" programs that add value to our employees' working relationship.
Diversity Engagement
Heartland AEA embraces diversity and inclusion by seeking out and hiring those whose differences are reflected in a variety of forms including, but not limited to, race, culture, perspective, talent, interest, ability, gender, gender identity, sexual orientation, age, religion, language and socio-economics. Our goal is for all employees to be able to engage and work effectively with others different from themselves, treating each other with respect and retaining employees who strive to meet this goal. Heartland AEA's Diversity Engagement Advisory Team provides resources and guidance and implements actions on issues related to diversity and inclusion.
Mentoring Program
Among the many supports provided to new employees, new certified staff members are paired with a mentor for up to two years. This opportunity provides an essential valuable resource for new employees to have support from a colleague who serves in a similar role. Being a mentor can also be rewarding through helping others achieve their goals and gaining a fresh outlook on new approaches.
Professional Learning
Heartland AEA offers opportunities for professional learning for employees to enhance their skills and practices to improve student learning. These opportunities include a variety of formats including courses for credit, workshops that offer the latest evidence-based professional learning and online trainings. Certified staff members may advance on their salary schedule with additional education.
Volunteering
Heartland AEA employees are allowed 4 hours of paid time off to volunteer with co-workers on philanthropic endeavors of their choice once a year. This is Heartland AEA's opportunity to give back to the communities we serve!
Wellness Program
Heartland AEA provides a comprehensive wellness program for its employees encompassing career, community, financial, social and physical wellness. The Agency provides webinars, lunch and learns, treadmill and standing workstations, gym membership discounts and more. Among these are opportunities to earn Fitbits, cash incentives and more!