Digital Resources
There are three ways to access the digital content provided by Heartland AEA:
Discovery Search
Coming in September! We're excited that a new, improved way to search most of the digital resources is coming this fall! It will replace AEA Scout and will still feature one login, one search and one interface. It will be the go-to resource for teachers to find, curate and link instructional materials directly into their LMS.
---
Heartland AEA OneClick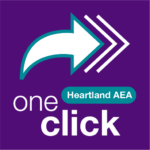 Students and teachers can log in to Heartland AEA OneClick using their school email credentials and then access each digital resource individually — without logging in again! That means the generic school username/password is no longer needed! Why the change? AEA OneClick provides better privacy and security and adds more convenient access.
If your district is an AEA OneClick district, click the button below to start exploring!
---
Generic School Username/Password Access
Click each resource and log in with your generic school username and password.
NOTE: EBSCO changed its password in February 2023. Contact your school's teacher librarian or the Heartland AEA library if you need assistance. This new EBSCO password is not needed if you access EBSCO resources through Heartland AEA OneClick.
PK-5th Grade
6th-8th Grade
9th-12th Grade

AEA Digital Library

— Videos

Advanced Placement Source

— Full-text articles and information for AP courses [EBSCO]

American History in Video

— Videos and newsreels including transcripts

BookFLIX

— Read-aloud ebooks

Britannica School

— Encyclopedia for beginning research

Core Concepts: Biology

— Videos, digital interactives and experiments

Core Concepts: Chemistry

— Videos, digital interactives and experiments

Core Concepts: Periodic Table

— Videos, digital interactives and experiments

CultureGrams

— Information about people, places and cultures around the world

FreedomFlix

— Videos paired with ebooks about topics in history

Gale Resources

— Journals, newspapers and reference materials

Gale General OneFile

— Full-text articles

ImageQuest

— Over 3 million images

Learn 360

— Video clips, images, audio files, newsreels and speeches

MackinVIA

— Ebooks and digital audiobooks

Newspaper Source Plus

— Full-text newspaper articles

NoveList Plus

— Information about authors and illustrators [EBSCO]

PebbleGo

— Articles, ready-made activities and literacy supports for K-3 students

PebbleGo Next

— Articles for 3-5 students about biographies, science and social studies

Points of View Reference Center

— Full-text essays presenting multiple sides of a current issue [EBSCO]

ScienceFlix

— Books, experiments and video clips related to science

SIRS Issue Researcher

— Full-text primary sources on current social issues representing various viewpoints

Soundzabound

— Royalty-free music

TeachingBooks

— Teaching resources about K-12 books

Teen Health & Wellness

— Information for teens on topics such as nutrition, relationships and mental health

TrueFlix

— History and science-related fictional video and non-fiction ebook pairs
Educators