Digital Resources/AEA Scout
Hello Students, Families & Educators!
Are you ready to listen to some audiobooks? Got a favorite ebook or read-along you want to catch up on? Want to watch some videos about sharks? Interested in exploring some of your favorite topics? Got a big research paper coming up? We've got just what you need!
Click Your Grade Span to Get Started!
Digital resources are excellent for reports, references and fun! They are an extension of the materials available at your school library. The resources are purchased by Heartland AEA and require a username and password assigned to your school. If you do not know your school's username and password, ask your school librarian or contact the Heartland AEA Library.
New for Secondary Students & Educators: AEA Scout!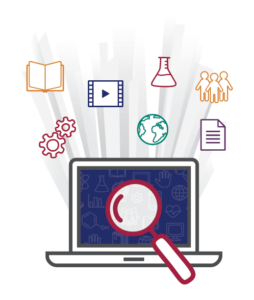 Iowa's AEAs are changing the way students and educators find high-quality digital information. Enter AEA Scout: One login. One search. One interface.
AEA Scout is a new online portal that houses many of the digital resources provided by Iowa's AEAs such as AEA Digital Library, Britannica School, Gale and MackinVia. Students benefit from a one-stop shop for their research needs, and teachers can rest easy knowing their students are searching the quality, curated content they've come to know and trust. Check it out!
Age-appropriate, High-quality Resources
Parents, your children are familiar with these vetted, age-appropriate and high-quality digital resources and use them daily in the classroom. Some will require a school building username/password. Our offerings include:
Articles
Digital audiobooks
Ebooks
Encyclopedias
Read-aloud ebooks
Newspapers
Videos
Digital Resources/AEA Scout