Copyright Information
It's easy to copy a DVD or music file, scan an image, transfer digital files, photocopy, stream video, etc. But how do you know if the copying is legal? Check out the resources below to help you understand more about copyright laws and your rights and responsibilities as users of copyrighted information. The teacher version includes the same content as for students along with information on digital content and virtual learning, copyright permissions and more.
We wanted to offer several options that will meet your needs in the virtual and physical classroom. You are welcome to link these resources to your school website or LMS.
Copyright Guidance
Copyright BriefNotes for Students
Copyright BriefNotes for Students & Teachers
Copyright Decision Tree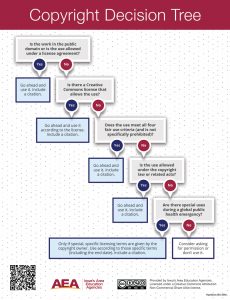 Need Printed Copies?
Educators in the Heartland AEA service area can log in to Creative Services Online to order printed copies of:
Copyright BriefNotes for Students
Copyright BriefNotes for Students and Teachers
Copyright Decision Tree poster