Technology is changing—again!
Usage data are showing that educators in the Heartland AEA service area now rely on streaming video rather than DVDs. The Agency's DVD usage has dropped from 7,927 checkouts in 2011-12 to 156 in 2020-21. The streaming video (from just Learn 360) usage ranges from 53,000 to 64,000 views each school year.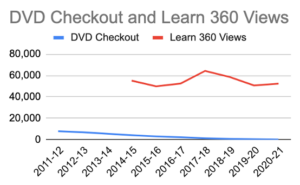 As a result, Heartland AEA is weeding its DVD collection. We are offering the DVDs to educators to use in their classrooms. Educators can go through the usual checkout process in the library catalog and just keep the DVDs once they're delivered.
No comments yet! Share your thoughts below to be the first person to comment.