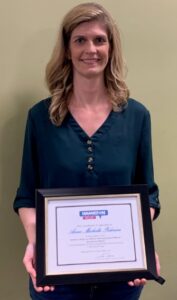 Anne-Michelle Pedersen, a Heartland AEA Teacher of the Deaf & Hard of Hearing, was recently awarded the Hamilton Relay 2021 Better Hearing and Speech Month Recognition Award for the State of Iowa. Anne-Michelle's passion for the Hard of Hearing community extends far beyond her work responsibilities as a Teacher of the Deaf & Hard of Hearing for the past 11 years at Heartland AEA, as she is known to devote hours of her personal time to volunteer in her church and community.
At four years of age, Anne-Michelle was diagnosed with hearing loss and during preschool, she worked with an itinerant teacher of the deaf/hard of hearing who supported her and guided her family throughout her educational journey. After graduating from college, she followed those same footprints to become an itinerant teacher for the deaf/hard of hearing. Anne-Michelle wanted to share her experiences with others and positively impact children with hearing loss, their families and her colleagues.
Some of the organizations Anne-Michelle volunteers for include the Iowa Chapter of the Alexander Graham Bell Association for the Deaf and Hard of Hearing, Hands & Voices and her church where she teaches songs in sign language, serves as a counselor for young women and as a youth leader.
About Hamilton Relay
Hamilton Relay provides contracted Traditional Relay and Captioned Telephone services through 21 contracts to 15 states, the District of Columbia and the Island of Saipan and is a provider of Internet-based Captioned Telephone services nationwide.
No comments yet! Share your thoughts below to be the first person to comment.