Early ACCESS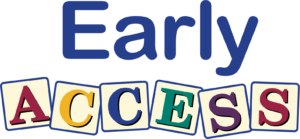 Early ACCESS is a partnership between families with young children (birth to age 3) and providers from:
Families and Early ACCESS staff work together to identify, coordinate and provide needed services and resources that help families assist their infants and toddlers in their growth and development.
A Family Guide to Early ACCESS
Watch this video to learn more about Early ACCESS and how families feel about the providers who assist them and their children.
---
Eligibility Criteria
Infants and toddlers under the age of 3 are eligible to receive Early ACCESS early intervention services when they meet any one of the three following criteria:
1. The child has a diagnosed and documented physical or mental condition that has a high probability of resulting in developmental delays.
2. The child has a 25% or more delay in one or more of the following developmental areas:
cognitive development
physical development including vision and hearing
communication development
social/emotional development
adaptive development
3. An informed clinical opinion may establish a child's eligibility.
---
Individualized Family Service Plans (IFSPs)
The goal of the Individualized Family Service Plan (IFSP) process is to empower families with the resources, skills and processes to meet the needs of an eligible child and their family in order to enhance the child's growth and development. The IFSP is written in collaboration with the family and may be modified based on the changing needs of the child and the family in accordance with Division VII and Division VIII of these rules. Parents and families shall be continually involved in all aspects of the identification, evaluation and assessment; IFSP planning, implementation, evaluation, review and revision processes; and transition planning.
For a child who has been evaluated for the first time and determined to be eligible, a meeting to develop the initial IFSP must be conducted within the 45-day time period indicated in rule 281 – 120.30(34CFR303). Meeting arrangements shall be made with, and written notice provided to, the family and other participants in advance of the meeting date to ensure that the parties will be able to attend.
---
Guidance Documents
Early ACCESS Release Notes (July 2020)
Early ACCESS Procedural Safeguards for Parents
Early ACCESS Summary of Parents Rights
Iowa Administrative Rules of Early ACCESS
---
How to Make a Referral
If you think your child, age birth to 3 years, may need assistance, you can make a referral in one of two ways: directly to Heartland AEA or through the Iowa Family Support Network.
               OR  
Please note that if your child resides in the Des Moines Public School district, he/she would receive services from the district rather than from Heartland AEA. If your child resides in the Des Moines district, contact: 
Pam Nielsen
(515) 242-8213
---
More Information
For additional information about Early ACCESS in Iowa, visit: