Graphic Design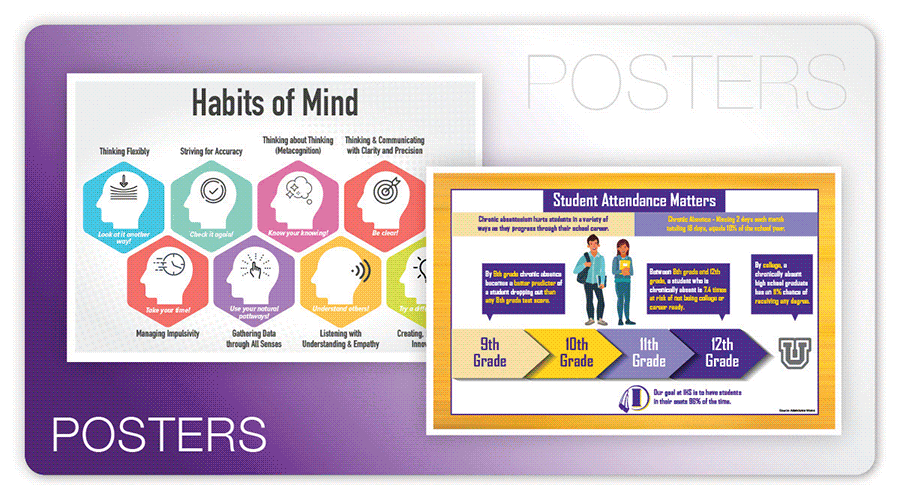 Graphics Galore!
Our graphic designers will enhance your existing materials or design pieces from concept to reality!
Examples of the many materials we can design:
Banners
Bookmarks
Brochures
Business cards
Cards and postcards
Door hangers
Envelopes
Flashcards
Flip charts
Folders
Magnets
Posters
Programs
Stickers
Tickets/passes
Vinyl wall graphics
Window clings
Order Timelines
Please allow at least two weeks for your graphic design project to be completed. We will make every effort to complete your request by the date needed, but projects requiring proofs or finishing work such as coil binding may require additional time to complete.
Copyright
When submitting items for design, please be aware of your rights and responsibilities as a user of copyrighted material. Ask yourself these questions:
Is the copying allowed by the publisher's/producer's statement on the material?
Does the copying fall under copyright law or educational guidelines?
Does the copying meet all four fair use criteria (purpose of the copying, nature of copyrighted work, amount to be copied, the effect on the potential market)?
Is the copying covered under a Creative Commons license?
Is the material in the public domain?
Have you attached a permissions statement from the copyright holder allowing for the copying?