Creative Services
Heartland AEA's Creative Services team can create and print instructional materials, displays, posters, wall graphics, brochures–almost anything educators need to help students achieve and schools run smoothly! Our staff focuses on working with educators to create and produce items that truly fit them, their students' and their school's needs. The possibilities are endless!
Easy, Quick Online Ordering with Creative Services Online!
As a busy, on-the-go educator, you need an easy way to order materials for your classroom! You're in luck because you can place all your orders for printing, lamination and graphic design through our Creative Services Online system!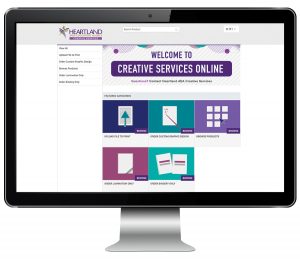 Log on to Creative Services Online using the same username and password you use for AEA Learning Online training, such as Mandatory Reporter and Bloodborne Pathogens. 
Creative Services Online has a number of great features that will help you save time when requesting materials.
Upload files straight to print

Search our offering of ready-made products, some of which can be customized for you/your classroom

Pay online using a purchase order, credit card or Pcard

Easily re-order items from "order history"

And so much more!
Items will be sent via Heartland AEA van mail to the building address chosen in the Creative Services Online address book unless another option is chosen.  
Classroom Use Only
Please note that materials are for school or classroom use only. Be aware of copyright restrictions and provide any relevant copyright permissions you receive.
Creative Services Team

Rick Bingaman
Lead Print Shop Associate
Jill Crees
Production Facilitator
Teri Hazen
Braillist
Hillory Jaco
Graphic Designer
Paul Lauritsen
Print Shop Associate
Abby Ohnemus
Braillist
Jan Morgan
Graphic Designer
Lindsey Rupp
Graphic Designer
Diana Scavo
Production Assistant