Computer Science
Celebrate 2022 CS Ed Week!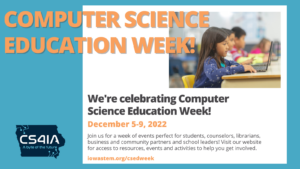 Computer Science Education Week (
csedweek.org
) is celebrated the first week of December to help promote computer science amongst students, parents, communities and organizations.
This year, we're proud to have partnered with educators, community leaders, and business professionals to develop statewide resources for CS Ed Week!
Please visit 
www.iowastem.org/csedweek
for resources and events to celebrate December 5th through the 11th, 2022. We invite you to share your experiences using #CSEdWeek and #CS4IA on social media.

The AEA Comp Sci Statewide Team is proud to have worked with a statewide team of educators, business professionals, and community leaders to develop resources for the 2022 Computer Science Education Week.
The links below provide access to quick computer science activities and resources to help you plan for the week. These are excellent resources if you're not sure how to get started.
This 
Comp Sci Dashboard
 provides access to a carefully curated variety of computer science education resources in one, filterable location or based on grade level.
---
What is Computer Science?
Iowa defines computer science as understanding how and why
 technologies work, exploring whether and how technology could solve real-life problems, investigating procedures, creating solutions, and learning about computing systems, programming, data, networks and the effects on society and the individual. Learning computer science means learning how to create new technologies, rather than simply using them.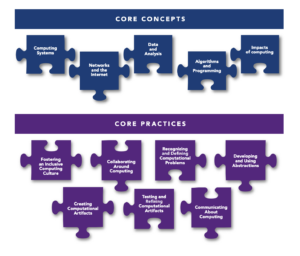 It is the vision of the state of Iowa that all Iowa students will engage in the concepts and practices of computer science through an intentional progression of experiences in order to prepare them to become enterprising citizens that positively impact society.
This vision is accomplished through the CSTA and Iowa standards that weave the Core Practices throughout the Core Concepts. You can find more about computer science in Iowa on the Iowa Department of Education website.
K-12 Computer Science Framework
Computer Science Standards (CSTA)
Heartland AEA Computer Science Overview + Resources
Heartland AEA is committed to supporting schools as they work to implement the Iowa Core Computer Science Standards. Area schools should contact a member of the Heartland AEA Computer Science Team for support.