TEST Digital Resources
Hello Students, Families & Educators!
Are you ready to listen to some audiobooks? Got a favorite ebook or read-along you want to catch up on? Want to watch videos about sharks? Interested in exploring your favorite topics? Got a big research paper coming up? We've got just what you need!
Digital resources are excellent for reports, references and fun! They are an extension of the materials available at your school library and are purchased for your school by Heartland AEA. 
Now Access Our Digital Resources Through Heartland AEA OneClick!
Iowa's AEAs are moving to a single sign-on approach to accessing digital resources. That means that the generic school username/password is no longer needed! Students and teachers can log in using their school email through a link called AEA OneClick. Why the change? AEA OneClick provides better privacy and security and adds more convenient access.
If your district is an AEA OneClick district, click the icon below to start exploring!
AEA Scout: One Login. One Search. One Interface.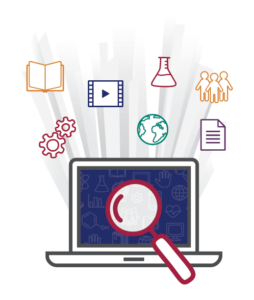 Iowa's AEAs changed the way students and educators find high-quality digital information with AEA Scout. AEA Scout searches most of the digital resources at the same time and includes notetaking, translation, text-to-speech, persistent links, sharing and organizational features. Teachers can share folders of curated resources and link resources to a district's LMS or a Google/Word doc and more! Check it out!
You can also access each digital resource in its native interface.
Add an exclamation point (!) at the end of your school password when you log in to the EBSCO resources.
PK-5th Grade

AEA Digital Library

— Videos

BookFLIX

— Read-aloud ebooks

Britannica School

— Encyclopedia for beginning research

Children's Books & Author Resources

— Connections to favorite children's books

Clipart.com

— Photos, clip art, fonts and animations

CultureGrams

— Information about people, places and cultures around the world

DefinedLearning

— K-12 project-based learning activities.

Discovery Education Science

— Discovery Education videos, activities and games

FreedomFlix

— Videos paired with ebooks about topics in history

Gale in Context Elementary

— News, pictures and videos to introduce students to researching

Learn 360

— Video clips, images, audio files, newsreels and speeches

MackinVIA

— Ebooks and digital audiobooks

Mystery Science

— Teacher resource for elementary science lesson plans and videos

netTrekker

— Find, organize and share thousands of vetted, standards-aligned resources

NoveList K-8 Plus

— Information about authors and illustrators

[EBSCO] PebbleGo

— Articles, ready-made activities and literacy supports for K-3 students

PebbleGo Next

— Articles for 3-5 students about biographies, science and social studies

ScienceFlix

— Books, experiments and video clips related to science

Soundzabound

— Royalty-free music

Tales2Go

— Audiobooks

TrueFlix

— History and science-related fictional video and non-fiction ebook pairs
6th-8th Grade

AEA Digital Library

— Videos

American History in Video

— Videos and newsreels including transcripts

BookFLIX

— Read-aloud ebooks

Britannica School

— Encyclopedia for beginning research

Children's Books & Author Resources

— Connections to favorite children's books

Clipart.com

— Photos, clip art, fonts and animations

CultureGrams

— Information about people, places and cultures around the world

DefinedLearning

— K-12 project-based learning activities.

Discovery Education Science

— Discovery Education videos, activities and games

Explora

— Magazines and newspapers

[EBSCO] FreedomFlix

— Videos paired with ebooks about topics in history

Gale in Context Middle School

— Magazines and newspapers

Gale Resources

— Journals, newspapers and reference materials

Learn 360

— Video clips, images, audio files, newsreels and speeches

MackinVIA

— Ebooks and digital audiobooks

Mystery Science

— Teacher resource for elementary science lesson plans and videos

netTrekker

— Find, organize and share thousands of vetted, standards-aligned resources

Newspaper Source Plus

— Full-text newspaper articles

NoveList K-8 Plus

— Information about authors and illustrators

[EBSCO] NoveList Plus

— Information about authors and illustrators

[EBSCO] PebbleGo

— Articles, ready-made activities and literacy supports for K-3 students

PebbleGo Next

— Articles for 3-5 students about biographies, science and social studies

Points of View Reference Center

— Full-text essays presenting multiple sides of a current issue

[EBSCO] ScienceFlix

— Books, experiments and video clips related to science

SIRS Issue Researcher

— Full-text primary sources on current social issues representing various viewpoints

Soundzabound

— Royalty-free music

Tales2Go

— Audiobooks

TrueFlix

— History and science-related fictional video and non-fiction ebook pairs
9th-12th Grade

AEA Digital Library

— Videos

Advanced Placement Source

— Full-text articles and information for AP courses

[EBSCO] American History in Video

— Videos and newsreels including transcripts

BookFLIX

— Read-aloud ebooks

Britannica School

— Encyclopedia for beginning research

Clipart.com

— Photos, clip art, fonts and animations

CultureGrams

— Information about people, places and cultures around the world

DefinedLearning

— K-12 project-based learning activities.

Explora

— Magazines and newspapers

[EBSCO] FreedomFlix

— Videos paired with ebooks about topics in history

Gale Resources

— Journals, newspapers and reference materials

Gale General OneFile

— Full-text articles

Learn 360

— Video clips, images, audio files, newsreels and speeches

MackinVIA

— Ebooks and digital audiobooks

Mystery Science

— Teacher resource for elementary science lesson plans and videos

netTrekker

— Find, organize and share thousands of vetted, standards-aligned resources

Newspaper Source Plus

— Full-text newspaper articles

NoveList K-8 Plus

— Information about authors and illustrators

[EBSCO] NoveList Plus

— Information about authors and illustrators

[EBSCO] PebbleGo

— Articles, ready-made activities and literacy supports for K-3 students

PebbleGo Next

— Articles for 3-5 students about biographies, science and social studies

Points of View Reference Center

— Full-text essays presenting multiple sides of a current issue

[EBSCO] ScienceFlix

— Books, experiments and video clips related to science

SIRS Issue Researcher

— Full-text primary sources on current social issues representing various viewpoints

Soundzabound

— Royalty-free music

Tales2Go

— Audiobooks

Teen Books & Author Resources

— Connections to favorite young adult books

Teen Health & Wellness

— Information for teens on topics such as nutrition, relationships and mental health

TrueFlix

— History and science-related fictional video and non-fiction ebook pairs
Educators
Academic OneFile — Articles from scholarly journals for academic research
Academic Search Ultimate — Full-text academic journals [EBSCO]
Book and Author Resources — Resources about children's and young adult books
DefinedLearning — K-12 project-based learning activities     Getting Started
Educator's Reference Complete — Insight on issues in administration, funding and policy
Education Source — Full-text research database designed for educators [EBSCO]
ERIC — Education research, sponsored by the Institute of Education Sciences of the U.S. Dept. of Education [EBSCO]
Explora — Professional journals [EBSCO]
NoveList K-8 Plus — Information about authors and illustrators [EBSCO]
NoveList Plus — Information about authors and illustrators
TeachingBooks — One-of-a-kind interviews with authors and illustrators and book study guides